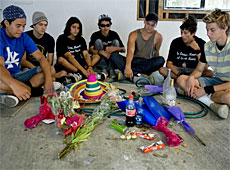 Friends have established a memorial shrine in the garage where Toran Henry died. Photo / Dean PurcellThree separate investigations are under way following the death of a Takapuna Grammar student who died a day after being beaten up at the school.
http://www.nzherald.co.nz/nz/news/article.cfm?c_id=1&objectid=10501092
Board of trustees chairwoman Jan Hill said an investigator with a legal background would be appointed this week to head the inquiry into the school's processes following the death of 17-year-old Toran Henry.
Ms Hill said Toran's death was a "serious matter" that would get the board's full attention.
"We will be inviting anyone who believes they can contribute to this investigation to do so. This is the only way we can truly address the allegations which have been raised."
The Waitemata District Health Board and the police are also investigating the incident, which happened at Toran's home 12 days ago.
His death - which has been referred to the coroner - came just hours after a series of phone conversations with mental health case workers that reportedly left the teen distressed.
Toran was involved in a fight at the school the day before he died, and students are understood to have filmed the incident.
North Shore police area commander Les Paterson said he had assigned a small team of very experienced investigators to the case and would be "keeping an eye on developments".
But Toran's mother, Maria Bradshaw, and his friends yesterday criticised authorities.
Ms Bradshaw said her son had spent the past year struggling with depression and was last year referred to Waitemata's adolescent mental health unit, Marinoto.
She said the school rejected him and suggested he go elsewhere to complete credits that were needed for a university course.
Ms Bradshaw said that while the videotaped bullying incident would have left him "humiliated", she does not believe it caused Toran's death.
On the day he died, he had several conversations with his case workers about the incident, and became upset after one told him he would be reported to the police if he retaliated against the boy who had beaten him.
Two hours later, Ms Bradshaw found Toran dead in the garage.
Toran's friends - who have established a garage shrine in his honour - claim the school bullied and harassed him and was too quick to give up on problem students.
"He couldn't do anything," said Jason Taylor, 18. "He had tried so hard. If they just gave him extra attention he would have been out of that school in a month. There's no doubt in my mind if that had happened he would still be here."
The friends said they had become more like a family than mates in the past two weeks. They saw that camaraderie as their best defence against depression and its repercussions.
But one Takapuna Grammar student who contacted the Herald last night said she was unaware of a bullying problem at the school and was amazed by the claims surrounding Toran's death.
"[Toran] and his friends weren't angels. I feel the deepest sadness and sympathy for his friends and family, but please do not make this about my school. I'm proud to attend TGS and do not want its reputation tainted."
The student also played down the significance of a "fight club" that supposedly existed at the school.
"I have seen it once, the day Toran came. It was controlled and had rules - it was in no way brutal.
"Boxing gloves were used, no one was ever hurt, safety was a priority and at the end of the fight all grudges were forgotten and the participants would shake hands and hug."
Toran's friends also said the alleged "fight club" did not exist to any great extent and had "nothing to do" with his death.
Education Minister Chris Carter said he was concerned bullying might have contributed to the tragic events and had "strongly encouraged" a thorough investigation by Takapuna Grammar.
"Every school must ensure a safe environment for its students."
The Director of Mental Health, Dr David Chaplow, said the Ministry of Health had called for an internal inquiry and would determine the next steps after the investigation was completed.
Waitemata District Health Board is also investigating and extended "sincere condolences and sympathy" to Toran's family.